Adventures North TV Series

Adventures and wilderness experiences in Canada's north and arctic
Lake Trout Mecca - Part 1 - Great Slave Lake, Northwest Territories
Professional angler Alex Keszler, Steve MacInnis and Plummers Lodge head guide Bob Williams, team up for a week of trout fishing in paradise. The fishery on the northeast arm of Great Slave Lake is incredible and serves up impressive Lake Trout regularly. On day one
Bob and Alex share a boat
and except for the break for shore lunch it's no
n-stop action. This episode was filmed entirely on this day. It's not very often Alex is out fished by anyone but on this day Bob puts on a clinic, reeling in most of the really big ones. Absolutely f
antastic fishing and more to come in Parts 2 and 3.
Lake Trout Mecca - Part 2 - Great Slave Lake, Northwest Territories
For day two Plummers Lodge head guide Bob Williams takes
Alex Keszler
out fishing again and Alex is determined to keep up with Bob today. The duo combine for another impressive catch, and after a fabulous shore lunch they just keep reeling them in! This is one of the best big fish bites we've recorded in awhile! Everyone in camp is in on it, and

a father and son tell us about their incredible catch.

Alex shows us tackle and
techniques being used to catch these giant
Lakers. Guests swap stories in the lodge before dinner and then relax or head out for a few more hours of line time before bed.
Lake Trout Mecca Part 3 - Great Slave Lake, Northwest Territories
In the conclusion of this 3 part special Alex Keszler and Steve MacInnis share a boat and now armed with Bob's guidance, the pair head out in search of big Lakers. Our group has already caught more 20-40 pound giants than seems fair, and they just keep biting.

Alex lands his lifetime best Lake Trout
and
another
guest reel
s in an even bigger one! Then Steve and Alex guide a group of 4 Ontarian's to their lifetime trout too! When you a
dd in the scenery, wildlife, full service lodging and camp camaraderie, the Plummer's experience is so much more than a great fishing trip!
Nunavik Part 1 - Pingualuit Crater National Park, Nunavik, Quebec
Views from the rim of the crater are spectacular.
This extremely remote area is home to Caribou, Fox, Wolves and 30 species of birds including Ptarmigan, Peregrine Falcons and Snowy Owls. The camp and outposts are well-equipped for guests to enjoy canoeing, kayaking, fishing and hiking to explore the park.
Winter activities include snowmobiling, cross country ski trekking, ice fishing and igloo camping. Interactions with the Inuit guides and Park personnel make this a truly authentic, cultural and meaningful adventure.
Nunavik Parks Inuit Adventures Nunavik Tourism Quebec Original
Nunavik Part 2 - The Villages - Kangiqsujuaq to Puvirnituq, Nunavik, Quebec
A tour of the northern Inuit villages of Nunavik including local activities and fascinating experiences in special places in and around each community. In Kangiqsujuaq (Lat 61° pop 600) we visit the museum and record spectacular scenery. We stop briefly in Salluit (Lat 62° pop 1,250) enroute to the northern tip of Quebec, and the village of Ivujivik (Lat 62° pop 1,350) The community overlooks the Hudson Strait and Digges Island, where we witness an Inuit man climb the seaside cliffs to collect the edible eggs among the nests of one of the world's largest concentrations of Atlantic Murres. Locals climb the seaside cliffs to collect the edible eggs. Next we visit Puvirnituq
(Lat 60° pop 1,500) an aviation hub located along the Hudson Bay coast
. The region is known for it's fishing and hunting, soapstone carvers, the Snow Festival, and the Inuit Survival Training School. We'll accompany an Inuit man subsistence fishing and other fascinating experiences!
Jackson's Fly-in Outcamp - Harrop Lake, Manitoba
Colleagues Ryan Sproule, Matt Geiser and Steve MacInnis fly-in to Jackson's Harrop Lake Outcamp for 3 days of Pike and Walleye fishing. Set in the remote wilderness of the Canadian Shield, the lake is part of a river system and has 3 incoming rivers and 2 outflows, offering anglers a variety of current and lake areas to fish. There's a chance of spotting moose and black bears along shore and the scenery is really beautiful. The time spent at camp, the shore lunches and the fishing were all memorable. At times we caught Walleyes on every drop, and to end the trip Ryan cranks up his personal best Northern Pike, at 41-1/2 inches a
Manitoba Master Angler!
At the Arctic Circle - Great Bear Lake, Northwest Territories
Steve MacInnis and Alex Keszler team up for a fishing adventure at the world's most prolific trophy Lake Trout fishery, Great Bear Lake, NWT. P

lummer's Lodge is the ideal destination with the best equipment, comfortable full service lodging, great

Trout and Grayling fishing nearby, plus
daily flyouts for Arctic Char, Pike and Inconnu. This vast lake and arctic wilderness is home to
Moose,
Musk
Ox,

Caribou, Black Bears, Raptors and more.
We'll share our close encounters with Arctic Loons, Wolves, Peregrine Falcons and an exciting Grizzly Bear encounter recorded by another guest!
Nunavik's Big 3 - Caribou, Musk Ox, Polar Bears - Nunavik, Quebec
We start with a boat trip from Kangiqsualujjuaq to islands at the edge of Ungava Bay, where local guides pick Eider down and eggs. Then on Diana Island and a trail adjacent to the village of Quataq we encounter Snowy Owls, small herds of Caribou and dozens of Musk Ox. Next near Kangirsuk, along Payne Bay we watch thousands of Caribou pass by. On our last stop near Tasiujaq, we experience 3 Polar Bear encounters on one afternoon! Incredible bucket list adventure!
Combo Moose Hunt/Walleye Fishing - Amphibian Lake, Manitoba
Friends Alex Keszler, guide Beaver Cyr and host Steve MacInnis enjoy
a week of
exciting
action at Jackson's Amphibian Lake Lodge, located on the Pigeon River system in NE Manitoba. There are current areas, waterfalls and tons of moose and Walleye habitat to explore.
Alex and camp guest Dale Roberts harvest nice bulls early in the week, leaving lots of time for the fantastic fishing! The amount of prime territory and number of animals around was impressive, one hunter saw 6 bulls and 3 cows!
Arctic Char Among Caribou - Payne Bay, Nunavik, Quebec
On this adventure we visit the remote waters of Payne Bay in the northern Ungava region. After a day in the village of Kangirsuk we boat up the scenic estuary to the Payne River Fishing Camp. Abundant Arctic Char, herds of migrating Caribou, other wildlife and spectacular scenery are the backdrop for this exciting arctic fishing adventure. Local Inuit guides, comfortable lodging and access to the best fishing, make this a dream trip!
Lund Mania Walleye Fishing Tournament - Pinawa, Manitoba
Lund Mania is an annual fishing tournament on the Winnipeg River based in the town of Pinawa. The event attracts

Lund Boats Pro Staff, competitive anglers and local fishing heroes all vying for more than bragging rights, there's huge prizes like boat and motor packages, equipment and fly-in fishing trips. The fishery here holds some real giants and to win here competitors need to catch a few of them. The whole town gets behind the tournament with other events and activities on the same weekend. Participants talk about what a great time it is, and what a great fishery and location to host this special event.
lundboats.com
The Bobby Hull Fishing Experience - Lake of the Woods, Ontario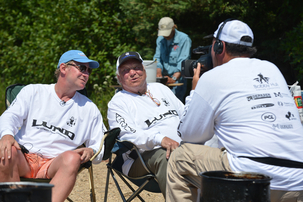 This annual 2 day charity fishing tournament on Lake of the Woods, attracts former and current NHL hockey players and fans for some competitive Walleye fishing. Th
e
event takes place at Wiley Point Lodge south of
Kenora, Ontario.

P

articipants purchase the chance to share a boat with a hockey legend like Bobby Hull, Ulf Nilson, Thomas Steen
and others. Boats are guided
by Lund Pro Staffers, so the fishing is always great, there's lots of hockey chat and laughs, and it's all for a great cause, with proceeds going to the Amadeus Steen Foundation.
amadeussteenfoundation.org
Winter Walleye Adventure - Lake Winnipeg, Manitoba
Guest host Alex Keszler, Bob Williams and Logan Zimmerman travel by snowmobile across the snow covered ice in search of Lake Winnipeg's famous greenback Walleyes. It's the 10th largest lake in the world and at 24,000 square kilometres, the vastness of this lake can be intimidating. Fishing from a shelter or shack in one spot is a hit and miss approach. This group is highly mobile moving systematically as they hone in on the hot pattern of the day. Their tactics result in some fast-action and big Walleyes being pulled up through the 5 foot thick ice. Throughout the day the guys share ice fishing knowledge and tips to help anyone be a better ice angler. Catching a Lake Winnipeg greenback is a uniquely Manitoba experience enjoyed by thousands of anglers each year. One of the easiest ways to try your luck is ice fishing. We'll visit one of the biggest ice fishing events in Manitoba, the AYA Ice Fishing Fundraising Derby near Chalet Beach. Located along the south shore of the lake just north of Winnipeg, this family friendly event is a great way to experience Lake Winnipeg and have a shot at catching a big fish and winning great prizes.